Louisiana's West was once a part of No Man's Land, a region with no king or country, home to outlaws, bandits, pirates, and brave pioneers. The settlers were larger than life, and so are the stories!
A brief History: When the United States purchased the territory from France, Spain and the U.S. were in conflict over the boundary, near Natchitoches. In part, this confusion derived from the region's long history, even before Spanish rule during the 1790s and 1800s, as a contested area with unclear boundaries. Moreover, to a large degree Spain governed the region with a blind eye, issuing land grants and allowing squatters and all manner of self-directed settlers, such as Native Americans who lost lands during the French-Indian War, to settle there in order to thwart American expansion. In lieu of an armed clash to decide the new territory's borders, both governments agreed to remove all troops from the disputed area until boundaries could be determined, and the official Neutral Strip was born.
The region's use as an official buffer between Louisiana and Spanish Texas lasted roughly from 1806 until the 1819 Adams-Onis Treaty that established the Sabine River as the territory's western boundary. While some may lump the culture of the very western portion of Louisiana into the general culture of Louisiana, others identify it as a separate folk region. Slow to be settled, and marked by a pivotal moment in history, the Neutral Strip region exhibits a culture colored by several pockets of diverse folk groups—like Native Americans, remnants of early Spanish colonies, Scots-Irish pioneers, African Americans, and others—who fiercely hold on to their traditions and notions of identity. Sometimes described as a place filled with an outlaw culture or as a region with a reputation for a tough and isolated place, the region is better understood as a bastion for those cultural groups who wished to find a home where they could preserve a way of life they cherished.
For more information visit the No Man's Land website.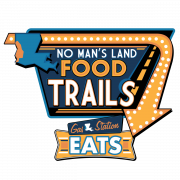 IT'S ALL ABOUT THE FOOD
Anyone who travels to Louisiana knows our cookin' is a big attraction. Our state has its mainstays-off-the-freeways like everybody else. But, if you're looking for authentic Louisiana flavor - the eats and treats you hear gossip about - you've got to explore the byways-and-highways of the No Mans Land Food Trails!
Day-trippin' the gas station eats of No Mans Land offers a slice of southern hospitality, tasty scenic landscapes, and several big bites of what you came here for. 
Download the Gas Station Eats brochure today!